OUR STORY
The idea for the Startup came up when our Founder Christof realized that it is always that last Gin & Tonic that you regret the next morning, or that you all too often just drink alcohol because of the lack of exciting alternatives. 
It was never about being anti-alcohol but about having another choice in moments when you don't want to drink alcohol. That's why we wanted to develop alcohol-free spirits with which you can mix your favorite drinks to cheers with, just without the alcohol. 
Along the way, Janick joined the mission as co-founder. We both received a lot of encouraging feedback for the idea, but also some irritated, odd faces... And exactly that polarizing feedback motivated us. Society is still very much dominated by alcohol-driven drinking rituals and we want to celebrate all the free-spirited rebels out there who proudly join us in breaking those social drinking norms. 
REBELS 0.0% was born!
CONTACT
SHOP NOW
OUR MISSION
Global alcohol consumption is declining and millennials are already drinking 20% ​​less alcohol than the previous generation. 
Nevertheless, there are still hardly any festive alcohol-free choices for social drinking situations, instead of boring water, sugary lemonades or high-calorie mocktails.
In addition, still all too often you have to justify yourself if you don't drink alcohol and don't have anything "special" in your hand. 
With our "FREEING THE SPIRIT OF SPIRITS" mission we want to break social drinking norms and celebrate everyone's freedom of choice.
SHOP NOW
OUR PRODUCTS
Our truly alcohol-free REBELS 0.0% RUM, GIN, AMARETTO, SPRITZ, WHISKEY & APERITIF ALTERNATIVES are inspired by the classics and the perfect sophisticated base for your favorite longdrinks & cocktails.
They contain the typical ingredients such as bitter oranges and sweet rhubarb for the Spritz, almond and sweet apricot for the Amaretto, oak and vanilla notes for the Whiskey, juniper and other botanicals in the Gin, sugar cane molasses and oak bark in the Rum, wormwood and red grapes in the Aperitif. And with the addition of a tiny bit of chili extract, we even get a little burn in the throat.
SHOP NOW
RECIPES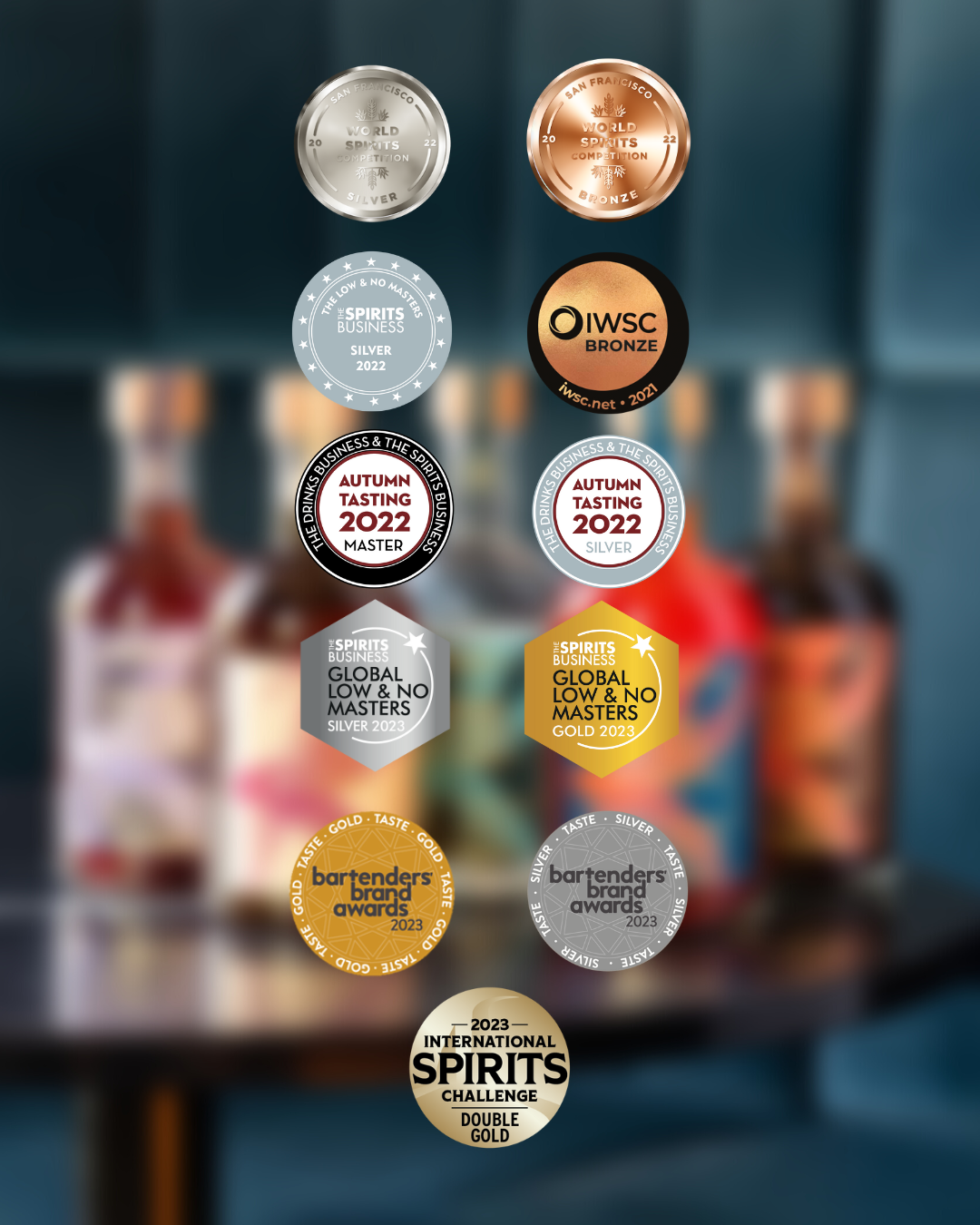 AWARD-WINNING PRODUCTS
Super proud to have received major recognitions from leading spirits experts who ranked our REBELS 0.0% spirits alternatives among the world's best no-low alcohol products:
1 silver + 2 bronze medals at the world's biggest San Francisco World Spirits Competition in April 2022
2 silver medals at the global Spirits Business Masters in January 2022
2 bronze medals at the renowned International Wine and Spirits Competition (IWSC) in autumn 2022
1 master medal + 1 silver medal from the Spirits Business in October 2022

3 silver medals + 1 gold medal from the Spirits Business in January 2023
2 gold + 2 silver medals from the Bartenders Brand Awards 2023
2 double gold medals from the International Spirits Challenge 2023

CHEERS TO THAT! 🙌🏼
SHOP NOW
OUR PROCESS
Crafted & produced in Switzerland, we are proud to be the first Swiss alcohol-free spirit alternatives in the market. 
Thanks to our DOUBLE DISTILLING process, in which we distill our botanicals not only once but twice by combining traditional and modern distilling methods, we manage to completely avoid alcohol along the way and yet still bring out the intense and complex flavors.
CHEERS!
SHOP NOW