MIX YOUR FAVORITE LONGDRINKS & COCKTAILS, HANGOVER-FREE!
+ Double Distilled, Alcohol-Free
+ Natural Botanicals & Vegan
+ Award-Winning Taste
Regular price
Sale price
SFr. 24.90
Unit price
per
Sale
Sold out
BUONGIORNO SPRITZ,
CIAO CIAO HANGOVER!
REBELS 0.0% DOLCE SPRITZ (500ml) 
with Bitter Oranges & Sweet Rhubarb
A base for longdrinks & cocktails
TASTE: An eruption of bitter-sweet oranges, typically complex notes of rhubarb, subtle spice nuances combined with fresh citrus aromas, characteristic bitterness and a slightly peppery finish.
HOW TO DRINK:
Italian Spritz: 4cl Dolce Spritz, 6cl sparkling wine (no/with alcohol), 2cl soda water, lots of ice and garnish with an orange slice.
Easy Spritz: 5cl Dolce Spritz, 10cl tonic water, ice, orange slice... done.
...DOLCE VITA without the hangover!
DETAILS
CONSUME IN A DRINK: All our products are developed to be enjoyed in a mixed drink and not meant to be sipped neat.
You can find drinks recipes on the back labels of the bottles or on our HOW TO MIX page.
SHELF LIFE: Once open, consume within 6 months (3 months for Dolce Spritz and Sweet Amaretti).
No need to refrigerate but store cool & in shade.
WHY REBELS 0.0%?
0.0% Alcohol. Double Distilled
Vegan & Natural Botanicals
Award-winning Taste & Barkeeper Approved
Crafted in Switzerland
Lots of Cheers, completely hangover-free!:)
QUESTIONS? Contact us on hello@rebels00.com or check out our FAQ page.
INGREDIENTS
Ingredients:
water, sugar cane syrup (cane sugar, water), orange peel distillate (25%), botanicals distillate, natural rhubarb flavor (0.12%), natural flavor, vermouth-, liquorice & spice-extract, colorant: E110 and E122, acid: citric acid, preservative: potassium sorbate.
Nutrition Information per 100ml:
Energy 261kJ/62kcal
Fat 0.02g
of which saturated 0g
Carbohydrates 15.4g
of which sugars 15.2g
Protein 0g
Salt 0g
View full details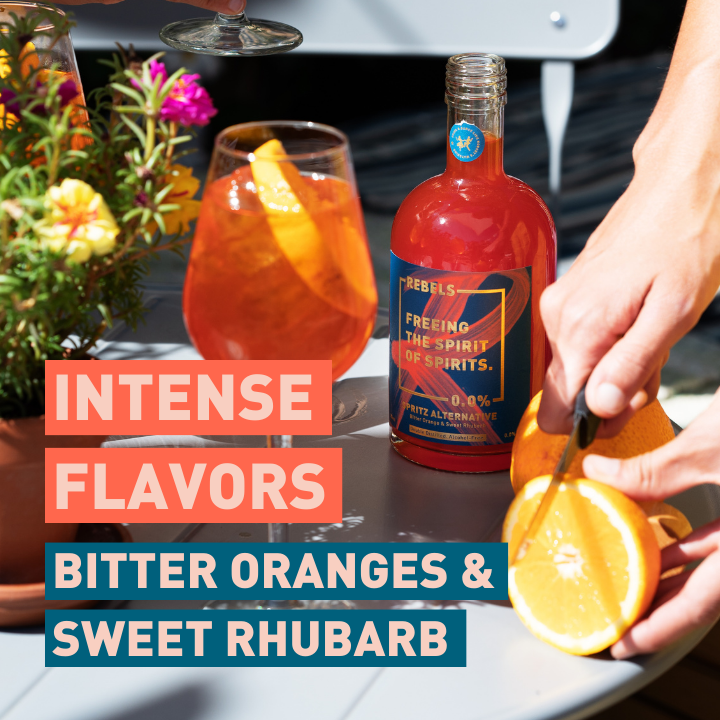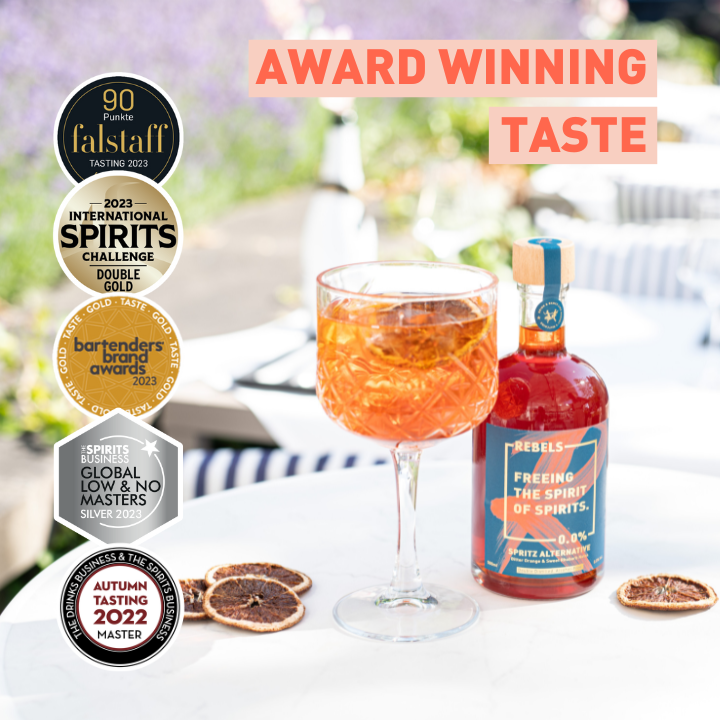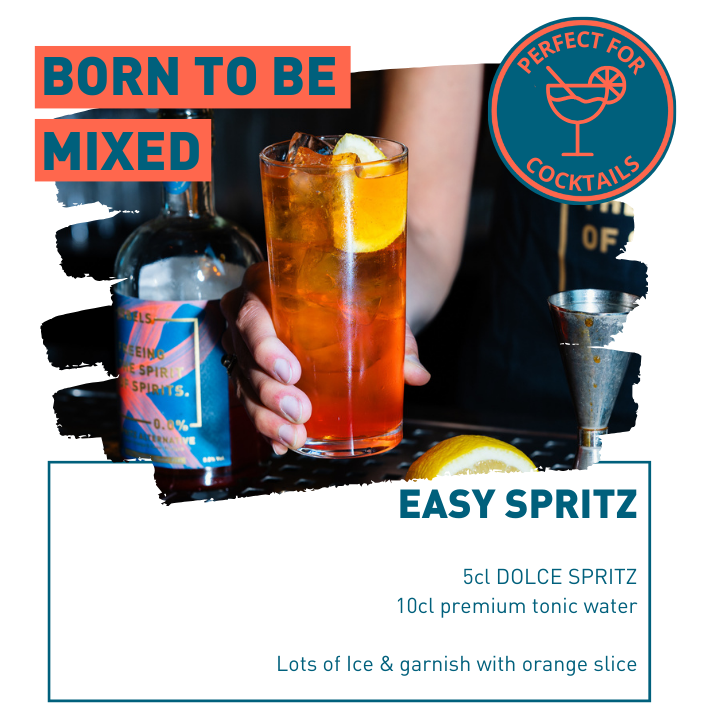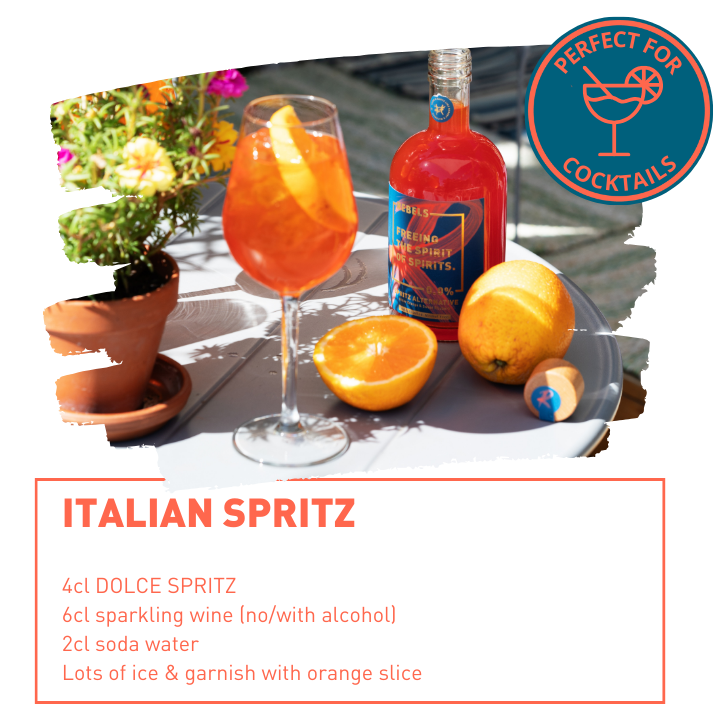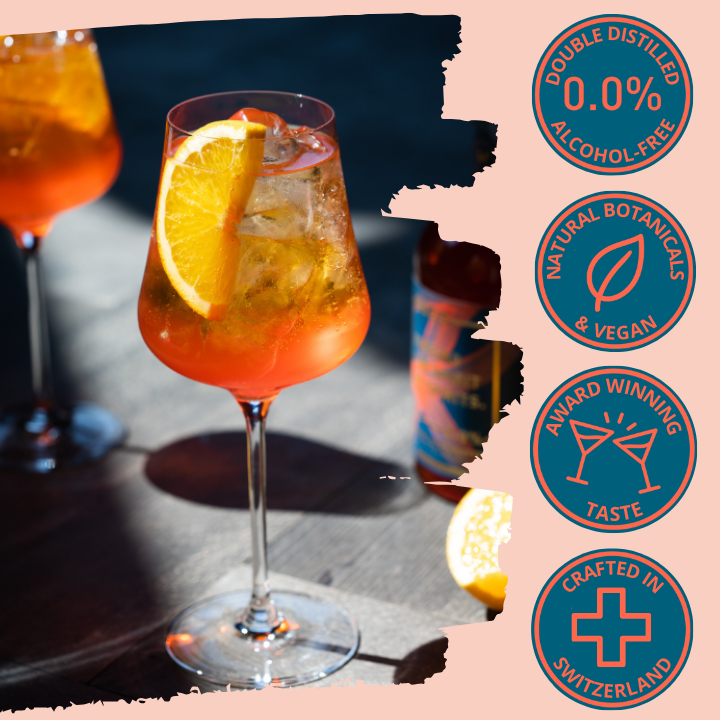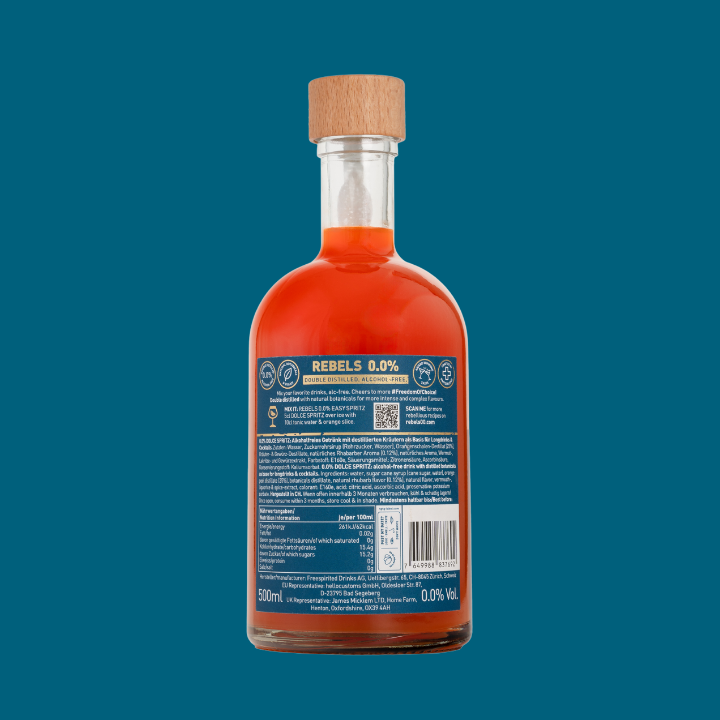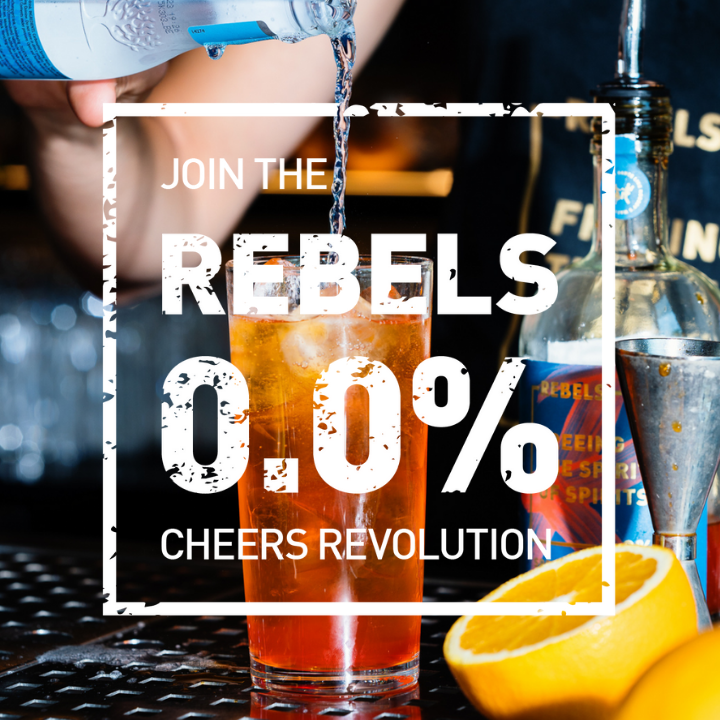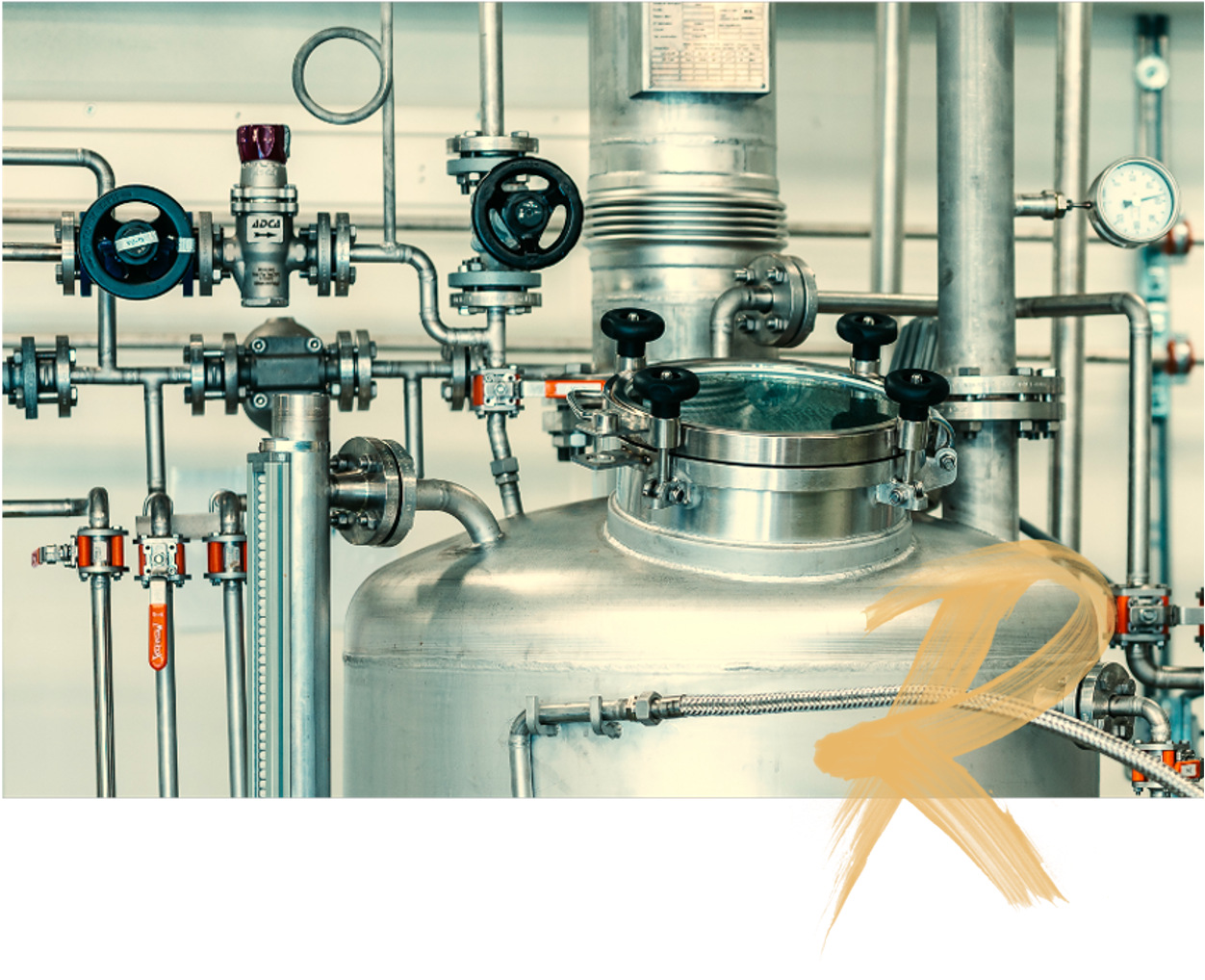 HOW IS REBELS 0.0% MADE?
With our unique self-developed DOUBLE DISTILLING process, we distill the typical botanicals not only once but twice by combining traditional and modern distilling methods.
This brings out our authentic, more intense and complex flavors without using any alcohol along the way. All of our products therefore truly contain 0.0% alcohol.
HOW TO MIX REBELS 0.0% DRINKS
SHOP ALCOHOL-FREE DRINKS & SPIRITS AT REBELS 0.0%
EXPLORE REBELS 0.0% FOR PREMIUM ALCOHOL-FREE DRINKS & SPIRITS. SAVOR TASTE,
SKIP THE ALCOHOL.
Discover the joy of celebration with Rebels 0.0% - your destination for alcohol-free beverage alternatives. Our selection is perfect for those who want to enjoy the full flavor of classic spirits without the hangover effects the next day. With Rebels 0.0%, you can experience your favorite cocktails in a new, alcohol-free light. Celebrate life and your choices with us. Visit our website an discover our range of alcohol-free spirits.
OUR RANGE – A FEAST FOR THE SENSES
In our range at Rebels 0.0%, you will find an exquisite selection of alcohol-free spirit alternatives, carefully developed to capture the essence of traditional flavors. Each product in our collection is the result of innovative craftsmanship, where high-quality ingredients undergo a double distillation process carried out in Switzerland. From the aromatic complexity of our alcohol-free gin, convincing with notes of juniper and a refreshing breeze of botanical herbs, to our velvety, alcohol-free rum, thrilling with its deep, spicy sweetness - each drink is a homage to its alcoholic predecessor.
DISCOVER OUR ALCOHOL-FREE PRODUCT HIGHLIGHTS
At Rebels 0.0%, we emphasize that pleasure and responsibility can go hand in hand. Our product highlights offer you the full aroma of classic cocktails, completely alcohol-free. The Whiskey Sour Perfect Cocktail Set offers the rich, rounded taste of a Whiskey Sour, while the Amaretto Sour Set with its sweet almond note and delicate acidity is a true explosion of flavor. Not to forget, the Gin Basil Smas Ready-to-Mix Set, which brings th fresh flavors of basil and juniper the forefront. Each set is carefully compiled to guarantee an authentic taste experience - perfect for those who want to enjoy the social aspects of drinking without resorting to alcohol.
Discover these highlights and more to celebrate your favorite moments without compromising on taste.
ABOUT REBELS 0.0%
Rebels 0.0% represents a new era of spirits, where tradition meets conscious choice of enjoyment. Our alcohol-free alternatives are made in Switzerland with a special double distillation process that captures the full flavor without the alcohol. Our goal is to revolutionize the spirits market by promoting an inclusive drinking culture that gives everyone the freedom to celebrate withou alcohol. Rebels 0.0% is more than a drink - it is an expression of personal freedom and the ability to make conscious choices. Each product is a promise of authenticity and quality, a true Rebels moment for those who want to enjoy without compromise.
ENJOY NOW
Dive into the world of alcohol-free delights with Rebels 0.0% and experience how our carefully distilled beverages enrich your cocktail hours without the need for alcohol. Whether you want to rediscover your favorite drink or try entirely new mix creations, our selection offers everything you need for responsible enjoyment.
Choose from our diverse range and order your alcohol-free drink today. Enjoy the full-bodied taste and the freedom of every sip - with Rebels 0.0%, you now mix your favorite drink alcohol-free. Start now and celebrate life on every occasion, with every glass - sociable, stylish, and without compromise.
ORDER NOW